Celebrate Christmas in a way your children will never forget!
Our KidzVenture is encouraging families to go through the Christmas Story in a way where the entire family will have a blast creating memories and most importantly placing Jesus Christ as the focus of our Christmas Season!
You now have a new member in your family and his name is JD. JD is short for Jesus' Donkey.
Parents you are to take JD home and this is where the fun begins:
There is only one real rule and that is that no one touches JD. Each day starting December 1st until Christmas Eve, JD will show up in different places with ideas on how the family can make Jesus the main focus of this Christmas. Parents, you are responsible for setting JD up every night after the kids go to bed. You can use the ideas written here, or you can use your own.
We would LOVE to see your JD on our facebook page! If you haven't already, please go to KidzVenture Facebook and join the fun! We will be posting JD and his adventures on our KidzVenture page. We would love to post your pictures. Email them to ([email protected])
It is important that you set aside some time, whether it is morning or night, to spend together as a family. Please prayerfully keep this commitment to God. The daily time and discussions can be tweaked by you depending on the ages of your children. Every week you will have a suggestion for an act of service to do with your family to Love, Live and Share Christ!
DAILY ACTIVITIES
JD Booklet is available for pick up at the KidzVenture office!
Evening
Create a "hot air balloon" out of a balloon, straws, and a plastic cup. See the example in the picture. Bring out JD after the kids have gone to bed and place him in the "hot air balloon" with a sign that says, "It's Christmas time again!"  If you haven't had JD visit before, introduce him with a sign saying, "Hi I'm JD, Jesus' Donkey!  I am so excited to tell you the story of Jesus' birth!"
Morning 
Say to your kids, "JD told me he can't wait for Christmas this year!!!"  Say, "Why do we celebrate Christmas? We celebrate Christmas to honor the birth of Jesus.  God gave us His One and Only Son as a gift!"
Read John 1:14 out of your Bible: "So the Word became human and made His home among us.  He was full of unfailing love and faithfulness. And we have seen His glory, the glory of the Father's one and only Son." (ESV)
Ask, "Who are we talking about in these verses?  Jesus!"
Because we want to be like God and because God has given us sooo much, choose a family or a friend that your family can give a 'Secret Santa Surprise' to or do an 'Act of Kindness'!  Pray together and ask God who this family or person should be. 
Evening
Have JD sitting next to a bunch of giant marshmallows. Use three marshmallows to make a snowman. Use toothpicks to stick the marshmallows together. Draw a face and buttons on him and maybe even add some arms with toothpicks or pretzel sticks!
Morning
When the kids wake up and find JD, tell them that one of JD's BFF's is 'Frosty the Snowman' and that having a best friend is a wonderful gift! Have the kids decorate their own snowman friends from the leftover supplies.
Look up Isaiah 9:6 in your Bible "For a child is born to us, a son is given to us…" (ESV). 
Ask your kids, "WHO is US?"  If they are confused tell them it's all of us.  THE WHOLE WORLD! Tell them that God is a giver, and point to where it says that a Son is given.  JD knows that a best friend is a wonderful gift but no gift can compare to Jesus Christ!  
Evening
Set up JD with action figures or stuffed animals and place them each inside of a long sock. Set them all on the ground somewhere to look like they're camping out in sleeping bags. You can even set up a "tent" out of a piece of paper folded in half standing up.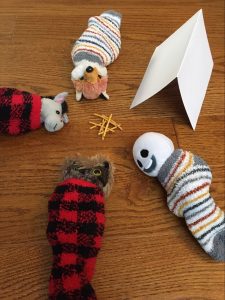 Morning
When the kids find JD tell them that JD loves to be with his friends and he doesn't like to be left alone. 
Look up Matthew 1:23 in your Bible, "…She will give birth to a Son, and they will call Him Immanuel, which means 'God with us.'" (ESV)
The name Immanuel means "God with us."  This tells us that Jesus is God and Jesus was born to live among us.  When Jesus left this earth and went to His Father, He left behind a helper, the Holy Spirit.  When we accept Jesus as our Lord and Savior, God gives us His Holy Spirit so we will never be left alone.  God's power, His Spirit, lives INSIDE OF US!!!  We are NEVER ALONE because the Holy Spirit lives inside of us ALWAYS AND FOREVER! 
Evening
Tonight, have JD use a lot of different lengths of ribbon or streamers taped zigzag over each child's doorway. The basic idea is that your child breaks through the ribbons or streamers in the same way that Gabriel breaks through the heavens with the BEST NEWS IN THE ENTIRE WORLD!!! Set JD with the leftover ribbon and streamers on a table with your Bible.
Morning
Read together the birth of Jesus foretold in Luke 1:26-30 in your Bible. 
Have the kids imagine Gabriel – the magnificent, powerful, and beautiful angel of God -being summoned before God's throne!  Lightning is flashing from His throne.  Beautiful colors blast everywhere, like none we have ever seen from God's glorious splendor!  God gives Gabriel, the bearer of God-news, His message.  Picture Gabriel soaring earthward through the heavens with the BEST NEWS IN THE ENTIRE WORLD!!! 
Discuss how this message was the most important message in the entire world. Ask your older kids WHY it was such an important message. 
Discuss what Mary must have felt when she heard the message.  The Bible says she was greatly troubled and afraid!  Gabriel told Mary not to be afraid because she had found favor with God.  You can discuss a time when you have been afraid and encourage everyone to share.   
Read 1 Chronicles 28:20, "Be strong and courageous, and do the work.  Do not be afraid or discouraged, for the Lord God, my God, is with you." (ESV)
The Scripture says,  'Mary found favor with God.'  Each one of us has also found God's favor.  God chose YOU and loves YOU!!! 
Read Ephesians 1:4-6, "Even before He made the world, God loved us and chose us in Christ to be holy and without fault in His eyes. God decided in advance to adopt us into His own family by bringing us to Himself through Jesus Christ. This is what He wanted to do, and it gave Him great pleasure. So we praise God for the glorious grace He has poured out on us who belong to His dear Son." (ESV) 
End in prayer! 
Evening
Grab a carton of eggs and use markers to decorate each egg. Write your kid's names on some of them. Look up the meaning of each of your children's names. You can even write the meaning on the eggs if they fit. Put JD in your refrigerator with a marker and the carton of eggs open next to him.
Morning
When the kids see what JD did, tell them that JD wanted to talk about what each family member's names mean and how they got their name.
Read Luke 1:31-33 in your Bible.
Gabriel told Mary to name the baby, JESUS! The very name at which every knee will one day bow. The very name that every tongue will one day confess. Even as a baby, Jesus was God!!! Immanuel, God with us!!!
Discuss as a family that Jesus' kingdom will never end and because of that, WE HAVE HOPE! The very name of Jesus gives us hope! Amazing hope that came down from heaven! At the end of your time, bow on your knees together and thank God for the hope that we have in Jesus!
Evening
Have JD hiding somewhere with candy canes set out to spell I ❤ U! Hide any extra candy canes around the room for your children to find in the morning.
Morning
When the kids wake up and find JD, tell them that JD loves them and wanted to remind them of how much God loves them too! Tell them JD hid the rest of the candy canes in the room for them to find.
Evening
When the kids go to bed, set JD up with a game. You can have him hiding with some Jenga blocks set up around him, set him up with some friends playing twister, or have him holding a game of 'Go Fish.'
Morning
When the kids wake up, tell them that JD loves playing games and wants to have a game night!
Read Luke 1:35-37 in your Bible. 
Even though Jesus was the Holy One and the Son of God, He was also a boy.  Nothing is impossible with God.  Jesus was young just like all of us. He grew up playing with His brothers and sisters, and He probably loved playing games.  He went to His cousin's house, John the Baptist, where He played with His cousins too!  He was just like all of us except He was perfect. That might have been a bit difficult because Jesus NEVER did anything wrong. So, if you were His brother or sister, you could never blame Him for anything! 
Evening
Set JD out with some toy cars and a sponge. Create a sign that says, "JD's Free Car Wash."
Morning
When the kids wake up, tell them that JD has been learning how important it is to serve others and decided to wash people's cars to serve them.
Read Luke 1:38, "Mary responded, 'I am the Lord's servant. May everything you have said about me come true.'" (ESV)
Ask, "What does it mean to serve?  What does it mean to be the Lord's servant?  It means to do something to show the love of God."
Start planning an Act of Service that you can do as a family this week to show the love of God to someone who won't expect it.  You could wash someone's car just like JD!
Close in prayer, asking God to help you all to be servants just like Mary.
Evening
Set up 30 or more plastic cups around the living room and set a goody for each child under different cups. Set JD standing on a cup with a sign that says, "Find the hidden treat!"
Morning
When everyone wakes up, tell them that JD sometimes gets carried away with his games! 
Evening
Hide JD in a place that your kids will never be able to find him without your help.  Write out clues and make the first clue easy to find.  Write three clues that lead one to another, ending with JD sitting in a bunch of mini marshmallows with hot chocolate and some mugs. 
Morning
Tell your kids to follow the directions that JD gave them on the clues.  When JD is found, make the hot chocolate and sit down together to read Luke 1:39-45.  Discuss Mary's walk to Elizabeth's house.  I don't know how long of a walk it was, but I bet some crazy thoughts were running through her head.  Like, "Did I REALLY see an angel of God?  Did he REALLY just talk to me?  Am I REALLY going to have a baby?"  Verse 45 says that Mary DID INDEED believe that God would do exactly as He said He would! 
Mary did need direction and she went to Elizabeth's house. What a miracle that Elizabeth already knew!  Mary believed without any proof.  God gives us His directions from the Bible. The Bible is God's very words. 
End in prayer asking God to always direct your lives for His good purpose. 
Evening
Stick googly eyes onto different fruit – oranges, apples, bananas, etc. Set them in the kitchen with JD next to your Bible.
Morning
Tell the kids that JD and his friends can't wait to see what the Bible says today!
Read Luke 1:47-48 in your Bible. 
Mary is rejoicing in the Lord!  Her spirit and her soul are rejoicing in God!  What a beautiful moment!  And in that moment, she is in awe that God would notice or be mindful of her. 
Scripture tells us God notices each and every one of us, and He is not just mindful, but has many thoughts about each person.  In Psalm 139:17-18, God's thoughts for us are 'more than the grains of sand.'  In Matthew 10:30 God says, 'even the hairs on your head are numbered!'  Try to count the number of hairs on each other's heads or try to count the grains of sand in a tablespoon!  WOW!  God loves us so much! Each and every person has worth and value because of that love! 
Look up 1 John 4:19 in your Bible. 
Pray together and have each person say, 'God loves me, and I am important!'
Evening
Set JD up with a picture of your family. Have markers or crayons set out with a piece of paper where JD has drawn a copy of your family picture. 
Morning
JD loves family! Today we're going to read about one of Jesus' family members.
Open your Bible to Luke 1:57 and read the birth of John the Baptist! 
If you have an NLT version of the Bible please read 1:76-80: Zechariah's prophecy, "And you, my little son, will be called the prophet of the Most High, because you will prepare the way for the Lord.  You will tell his people how to find salvation through forgiveness of their sins.  Because of God's tender mercy, the morning light from heaven is about to break upon us, to give light to those who sit in darkness and in the shadow of death, and to guide us to the path of peace." 
John grew up and became strong in spirit. He lived in the wilderness until he began his public ministry. 
John the Baptist lived his life as a sacrifice to Jesus.  Do you know anyone who would sacrifice their lives for you?  Today would be a great day to bake cookies and give them to your local police or fire station with a note of thanks as your Act of Service.  Pray and ask God to protect all of the brave people like police, fire and military!
Evening
Blow up a bunch of white or blue balloons and fill up the bathtub with them. Set JD up in the bathtub with the balloons! 
Morning
Tell everyone that JD was thinking about what it means to be baptized. He knows getting baptized is so important to God, that even Jesus got baptized, and He is God!  
Discuss with your children how important John the Baptist was to Jesus' ministry.  John was to prepare the way for Jesus. 
Look up 1 John 1:9. Explain that repenting (truly being sorry) for your sins prepares us for Jesus!  God wants to forgive us for our sins and He is always waiting for us to come to Him because He loves us.  John the Baptist baptized people When someone is baptized they are standing up for God and showing everyone that they want to love and serve God all of their lives.  When you are baptized, you are imitating the death and resurrection that Jesus Christ Himself experienced.  You are baptized with water on the outside for everyone to see. At the same time God is changing you on the inside where no one can see.  Please make it clear that getting baptized does not get you into heaven but it is important that we get baptized because it pleases God.  End in prayer asking God help us to obey Him. 
Evening
Place JD and some friends inside of rolled down paper sacks have a 'potato sack race.'
Morning
Today read Luke 2:1-5 in your Bible. 
Mary was GREAT with child meaning she was going to have a baby any moment and traveling would have been very difficult.  Sometimes we go through difficult things because God is using us in a mighty way.  Mary would have had a tough time traveling to Bethlehem, but she was right where God wanted her to be! 
Talk about a difficult time that you went through and how you can look back and see how God used you.  Go for a walk together as a family and try to imagine what your lives would be like if the only transportation you had was to walk.  Would that be difficult?  How would you lives be changed? 
End by praying for someone you know having a difficult time. 
Evening
Write 'I ❤ Christmas!' with toothpaste in your child's bathroom sink. Set up JD holding the tube of toothpaste.
Morning
Tell the kids that JD has a very difficult time waiting for Christmas! He is so excited!
Read Luke 2:6-7 in your Bible. 
Talk about things that are hard to wait for such as Christmas, birthdays, vacations, family visiting, or the birth of a baby. 
Read Luke 2:6 again. Imagine all of God's Holy Kingdom, ALL of His angels. They had waited thousands of years for this very moment!!!  It is always a joyous occasion when a baby is born.  Family and friends pack the hospital waiting room waiting expectantly!  The time had come when the Son of God was to be born and ALL of heaven was bursting with joy and excitement!
End in prayer thanking God for each person in your family.
DON'T FORGET TONIGHT to go join us for seeing Christmas Lights!   Meet at Church at 7:00 for hot chocolate and cookies. Then we will caravan to Candy Cane Lane to go Christmas Caroling and look at lights!
Evening
Place a plate out with skittles set up in ring. Set up JD with a sign that says, "Want to see a rainbow?"
Morning
When the kids are up in the morning, pour hot water into the middle of he plate until it touches the skittles. This will cause the skittles to bleed off their color and create a pretty rainbow!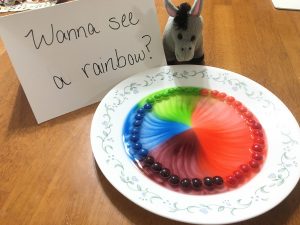 Evening
Cover JD in a bunch of Band-Aids. Have another stuffed animal or character holding the box helping JD.  
Morning
Tell the kids that JD loves Jesus!  JD wants everyone to know that babies are so frail, so tiny, and always need to be taken care of! 
Now read Luke 2:7 in your Bible. God could have had Jesus come down at any age.  Why a defenseless baby?  Jesus totally depended upon His mommy and daddy for everything.  When Jesus was a baby, a lot of babies died because there weren't any hospitals.  And to make matters worse, King Herod wanted to kill Jesus!  Jesus came down to earth as a teeny tiny baby to be just like us in every way. He was even placed in a manger. 
End in prayer thanking Jesus for going through everything that we go through, just to show us how much He loves us. 
Evening
Crumple a bunch of paper and set throw it all around in your living room. Set JD in the middle with a sign that says, 'Let's have a snowball fight!'
Morning
Tell the kids that all these snowballs remind JD of something else that is white – sheep!
Read Luke 2:8 in your Bible. 
The shepherds were the very first people God chose to tell about Jesus!  Why would God choose to tell the poorest, stinkiest and the most outcast of people about His Son FIRST?  Why didn't He tell Kings and Queens?  Isn't God so amazing how He goes straight to the people that everyone else ignores and forgets?  God is all about making everyone feel special.  He wants us all to know that we are valuable because we are His!  We belong to HIM! 
Evening
Hang some of your family pictures upside down. You are going to write some good news on little pieces of paper to stick onto these upside-down pictures. Your children will have to have the pictures turn back right-side-up to read the good news. You can write things like, 'Jesus loves you!' 'God wants to save all of us!' and 'God gives us eternal life!'  Set JD with a paper that says, "Go find the GOOD NEWS!"
Morning
When the kids wake up, tell them that JD has SOME REALLY GOOD NEWS and they need to go find where he left it.
Read Luke 2:9-10 in your Bible. Try to imagine and describe what that moment looked like.  We know it scared the shepherds super badly, but the angel immediately made them feel safe.  Read verse 10 again.  The angel brought, hot off the press, a tweet gone viral NEWS!  And not just any NEWS but from the Almighty, Magnificent, Holy God of the Universe who reached down from heaven to touch the hearts of ALL people with His amazing grace NEWS!!!
Take some time to talk about the unearned grace that God has offered us.  Grace is a gift from God given through Jesus Christ!  God's grace is free, but we do have to receive it!  God loves each and every one of us and He wants everyone to accept His Son as their Lord and Savior.  Close in prayer.  If someone hasn't accepted Jesus as their Lord and Savior in your family, ask them if they want to now.
Here's how you lead:
Everyone, myself included, have all sinned.  Sin is when we do something that makes God sad.  (forgetting God, disobeying Him, being selfish, hurting others).  God's Word says: "All have sinned and fall short of the glory of God."  Romans 3:23
God sent His Son, Jesus, to take the punishment for our sin.  Jesus died on the cross so all the wrong things we have done can be forgiven.  God's Word says: "Christ died for our sins."  1 Corinthians 15:3
If you admit that you've done wrong things, and if you believe that Jesus died for you and was raised from the dead in three days, God will forgive all your sin.  God's Word says: "If we confess our sins, He is faithful and just and will forgive us our sins."  1 John 1:9  "Everyone who believes in Him receives forgiveness of sins."  Acts 10:43
It's that easy!  God wants you to be in His family.  God's Word says: "To all who received Him, to those who believed in His name, He gave the right to become children of God."  John 1:12  "How great is the love the Father has lavished on us, that we should be called children of God!  And that is what we are!"  1 John 3:1
God gives us eternal life!  God's Word says:  "For God so loved the world that He gave His one and only Son, that whoever believes in Him shall not perish but have eternal life."  John 3:16.  Jesus rose from the dead on the third day and because of Him we will spend all eternity in heaven!
It's as easy as the ABC's!  A for Admit that you have sinned, B for Believe God's Promise, and C for Confess that you accept the gift of salvation!
Evening
Put JD somewhere in the bathroom with an expo marker. Write Luke 2:14 on the mirror, "Glory to God in the highest heaven!" You can also draw some pictures on the mirror so when your child looks in the mirror, it looks like they're wearing these objects (glasses, a crown, a moustache, a santa hat, etc.).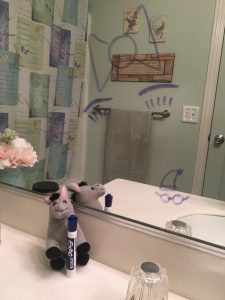 Morning
When the kids find JD, read the verse and tell the kids JD wants to celebrate with the angels!  
Read Luke 2:13-14 in your Bible. 
What an INCREDIBLE sight, a great company of heavenly hosts! Your Bible may say multitude.  Just know that it is a whole lot!!!  This was a HUGE celebration!!!  Verse 14 was the first Christmas Carol!  End singing Christmas carols as a family! 
Evening
Get some yarn and create a yarn trail through your house that your kids have to follow. When they get to the end of the trail, they will find JD!
Morning
When the kids find JD, tell them that JD is ready to go, "Let's GO to Bethlehem!"  
Read Luke 2:15-16 together in your Bible. Re-read the last part where it says, "which the Lord has told us about."  
Turn on the Christmas tree lights and lay there under the Christmas tree together and talk about the fact that we can trust EVERYTHING that the Lord says!  His Bible is Truth and everything He says is Truth!  Pray together. 
Evening
Place JD with a flashlight somewhere in the house. 
Morning
Tell your kids that JD wants to shine the light of Jesus and tell everyone about who Jesus is and what He has done for them!  
Read Luke 2:16-18.  As soon as they saw Jesus, the shepherds spread the word to everyone and ALL who heard it were amazed!  Share a time when you had the most amazing, exciting thing happen and you couldn't wait to tell EVERYONE! The shepherds took one look and they knew Jesus was who the angel said he was. When they looked at Jesus, they saw God's Son! 
John 12:45-46 says, "For when you see me (Jesus), you are seeing the one who sent me (God).  I have come as a light to shine in this dark world, so that all who put their trust in me will no longer remain in the dark." (ESV) 
No one can remain the same after seeing the Light of the World, Jesus Christ!!!  Make a plan as a family to tell everyone about Jesus Christ and how much God LOVES them!!! 
Evening
Set JD up in the kitchen with a bunch of your kid's favorite breakfast stuff. 
Morning
When the kids wake up tell them that JD wants everyone to sit down and have breakfast together.  
Read Luke 2:19 in your Bible. 
Tell your children that every child is a gift from God.  Take some time to talk about how you think Mary felt.  She treasured up all these things and pondered them in her heart.   
To ponder means to 'think about' and Mary had a lot to think about!   
– She was told by an angel that she was going to have a baby and not just any baby but the Son of God! 
– Elizabeth, Mary's cousin, knew Mary's baby was the Savior, Jesus, but Mary didn't even tell her!   
– She was about to have a baby and had to travel such a long distance!   
– Then, when Joseph and Mary arrive very far away from home, there was nowhere for them to stay, AND THEIR BABY WAS ABOUT TO BE BORN! 
– Oh, and don't even get started on the PLACE she had her baby. The baby Jesus was born in a manger, with all of the farm animals!   
– When she looked at baby Jesus' face, did she expect him to glow? 
– How do you raise the Son of God???   
Maybe share some stories of how you felt as young parents or some funny things that your kids did when they were little.   
Evening
Remove all of the presents under your tree and place JD with one present that each child can open on Christmas Eve! 
Morning
Tell your kids that JD was mischievous last night and so excited for Christmas!  
Have the kids open their Christmas Eve present.  Then look up 2 Corinthians 9:15 and read "Thanks be to God for His indescribable gift."   
Before you open your presents on Christmas Day with your family, be sure to put Christ first by reading Luke 2:1-20. 
SUPPLY LIST
Every day – Your Bible!!

Nov 30: A balloon, 4 straws, a plastic cup, tape, and a piece of paper
Dec 1: Big marshmallows, toothpicks, marker, and pretzel sticks (optional)
Dec 2: Long socks, cardstock paper (optional), and stuffed animals or action figures
Dec 3: Streamers or ribbon, tape
Dec 4: Carton of eggs and markers
Dec 5: A box of candy canes
Dec 6: Your child's favorite game
Dec 7: Matchbox cars, sponge, and a piece of paper
Dec 8: 30 or so plastic cups and a goody to eat for each of your children
Dec 9: Paper, hot chocolate, mugs, and marshmallows
Dec 10: Googly eyes and glue
Dec 11: Paper, markers or crayons, and a family photo
Dec 12: About 20 white or blue balloons
Dec 13: Paper lunch sacks and stuffed animals (One lunch sack for each animal)
Dec 14: Toothpaste
Dec 15: Skittles, plate, and hot water
Dec 16: Band-Aids and a stuffed animal
Dec 17: 30-40 pieces of white paper
Dec 18: Paper and tape
Dec 19: Expo marker
Dec 20: Ball of yarn
Dec 21: Flashlight
Dec 22: Your children's favorite breakfast food
Dec 23: One present for each of your children to open on Christmas Eve